"Johnny is a delightful host, we felt like guests, not tourists."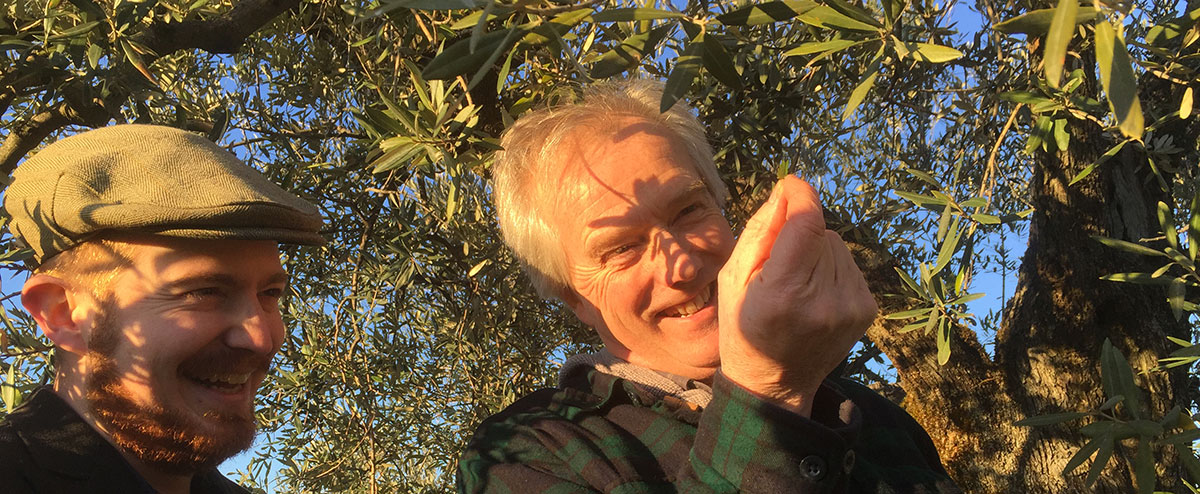 • This was an amazing experience with a wonderfully exuberant and passionate guide. I've had the fortune to spend a lot of time in Italy, and can say that this was one of the most rewarding things I have ever done. Johnny is a fountain of knowledge on the subject of olives and olive oil. His enthusiasm pulls you into the history of this area and into the multi-sensory experience of olive oil tasting and appreciation. I learned so much on our excursion that I am really looking forward to sharing with others. The countryside is splendid and wonderfully evocative. Johnny was very professional (quickly answering all my questions) and funny and his energy was palpable. 110% recommend for an everlasting Italian memory!!!!
• Amazing, informative, fun. The Best Tour Ever
• One of the best tours I have ever experienced. Johnny Madge gave us an unforgettable experience, blending an exceptional knowledge of his craft with a great sense of humor. Even though our family spans many generations, everyone had a blast — kids and seniors alike.
• An amazing day filled with delicious olive oil, food, wine & laughter.
• Best thing I have ever done on a holiday!
• Highlight of our trip! And Johnny deserves his own Food Network show. How do we make that happen??
•Great day trip from Rome – do this tour!!!!
• A truly memorable day in the country
• Best Trip Ever
• Johnny's tour came highly recommended and more than exceeded our high expectations. From the emails leading up to our trip to picking us up at the station, Johnny went above and beyond to make our trip seamless.
• The overall highlight of the Italy trip for the entire family
• Without doubt the top HIGHLIGHT of a wonderful Italian trip
• The Johnny Madge Olive Oil Tour was without doubt the highlight of a fantastic holiday based in the Eternal City.
• Favorite part of our Rome vacation
• Best thing we did in Italy. I swear!
• When first meeting Johnny, the first thing that strikes you is his deep sincerity and generosity.
• Johnny is a treat to humankind. A lovely guy with a real passion for olive oil that makes you want to be as passionate and knowledgeable as him too.
• Johnny is very warm and charming
• We were looking for a day that was a bit more relaxed and in the countryside. The tour with Johnny was exactly what we wanted!
• …we ALL had a marvelous time! Johnny was the perfect host and a very engaging authority on all things olive oil.
• He's as laid back and kind as he is smart…he just wants to show you a good time.
• We had spent a few days is Tuscany and were in awe of the landscape. Dare I say this area is even more beautiful. There are few tourists in these parts and the landscape is spectacular…Johnny is a great teacher and someone who will make you comfortable immediately…He is warm and welcoming.
• Johnny is charismatic, passionate, chilled and really knows his stuff.
Great for the family
• Memorable experience for the whole family
• Exceptional. Even your teenager will like it!
• His subject matter knowledge for olive oil is unparalleled. He's given lectures and been a judge at global oil competitions. He has an impressive ability as an expert to discuss at a very basic level, appropriate for and entertaining to teenagers. And he can talk with my wife, a biochemistry major and physician, about the detailed chemical underpinnings of olive oil. That's rare. He's wraps it all in great sense of humor.
• It never even felt like a "tour"… more like we were hosted for the day by a friend of a friend, who just happened to know a whole lot about olive oil.
• I'd like to add that our group consisted of myself, my wife, my 6-year-old and my 2-year-old. I suspect that our group composition isn't exactly typical, but he handled it deftly–he knew just how much time to spend in each place, just how much information to share, and just how to engage with our future-chef 6-year-old. We've done supposedly child-friendly tours in Rome who truly had no clue how to do what Johnny managed so effortlessly. I wouldn't want to impose our children on a bigger group, but as a private tour for just our family, it worked beautifully.